Throughout 2016, the R&R Partners Foundation has been on the move, continuing our work of transforming lives and strengthening communities. Of the great work being done for our Foundation clients, here are a few examples we just had to share.
Santuario De Luz
The first pro bono collaboration with our Mexico City office produced a beautiful and touching video for a hospital in Autlan, Mexico, which is supported by Carlos Santana's Milagro Foundation. In addition, we produced a fundraising brochure for Milagro Foundation's telemedicine program that will seek to provide the best medical care possible for patients of Santuario De Luz.
---
The Animal Foundation
We saw the completion of our two-year engagement with the Southern Nevada nonprofit that produced the award-winning "In-fur-mercial" campaign.
---
Flip the Script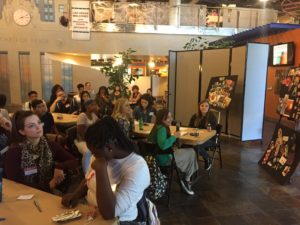 Our anti-bullying initiative is alive and well, completing our first school year of working directly with local middle schools to create customized respect campaigns. Becker Middle School, Fremont Middle School and Greenspun Junior High School all had the opportunity to work with R&R employees to create their own student-led anti-bullying campaigns. All were a great success and have become works-in-progress as students continue with their R&R teams for the 2016-2017 school year. In addition, we have selected three new middle schools to work with this year: Brinley, Swainston and Findlay. We're looking forward to launching their new campaigns in January.
---
Lastly, we've also made some exciting structural changes to our Foundation, including:
Our Employee Board
Because our Foundation is a reflection of the culture and generosity of R&R Partners, we created a board of employees to help ensure that our Foundation stays true to that culture. They have done a fantastic job this year! We wish to thank R&R team members Catherine Cole, Nick Vassiliadis, Piper Overstreet, Bruce Wilcox, Mark Sundermeier, Steve Wright, Monica McCafferty and Courtney Barrett for their service. We also want to congratulate and welcome our new employee board members – our chair, Jennifer Lopez, James Coleman, Melissa Keegan and Mandy Walsh.
---
Employee-Directed Giving Fund
This year, the Foundation established an employee-directed giving fund that matches the amount of money an employee chooses to donate to a charity, up to $100. We expect this fund will benefit some great causes that our employees care deeply about. Go R&R!